Recruitment Event: Saturday, October 21st, 2023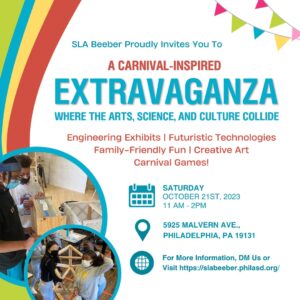 Join us Saturday, October 21st from 11 AM – 2 PM for our carnival-like recruitment fair! Check out who SLA @ Beeber students are at their core and witness their amazing talents, skills, and passions.
We will have an amazing variety of events including an engineering demonstrations by current students, robotics demonstrations, debut of our art gallery, and other family fun activities like competitive dance rollerskating!
We thank our partners from TinyWPA, Drexel BioMed, UPenn MechanoBio, Fox Chase Farms, Workshop U, and more for working with us.
See the flyer below for more information and for further information please contact:
Erin Stewart – estewart@slabeeber.org
Natalia McKay – nmckay@slabeeber.org
Max Lawrence – mlawrence@slabeeber.org